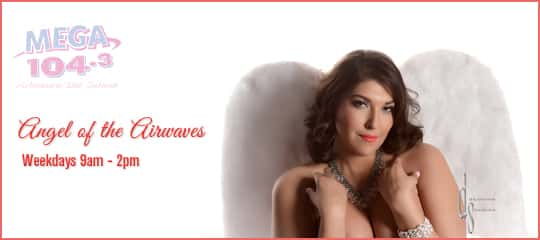 Angie Gomez was raised in the unique mining town of Superior, Arizona and is a 1996 graduate of Ray High School in nearby Kearny, Arizona. Angie grew up listening to and was influenced by the sounds of Whitney Houston, Carlos Santana, Gloria Estefan, Mariah Carey, and Madonna.
Angie now lives in Mesa, Arizona and makes her livelihood by entertaining people as the "Midday Diva" ( 9 AM- 2:00 PM) on Phoenix's original "Old School" radio station MEGA 104.3 FM, and as the lead vocalist for the very popular music group "Power Drive".
Angie is now working on writing and recording her own music and also on a personal line of jewelry, both to be released in the near future.
Stay tuned to Angie Gomez.com for updates on MEGA 104.3 events, Power Drive Gigs, Angie's Music and Angel Jewels.
* email Angie by clicking here
www.facebook.com/AngieGomez1043
Kim Kardashiandid what to her face? The 32-year-old reality star, always up for looking "young," underwent a so-called vampire facelift on Sunday's episode of her show "Kourtney and Kim Take Miami." The procedure is the same one