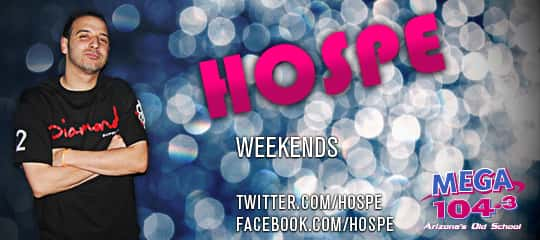 5 years ago, never did an ex-loan officer imagine himself in front of a microphone, on one of Phoenix's hottest radio stations. Always with a passion and love for music, Hospe always knew he would land a job in the music world. Deejaying local house parties, clubs, and attending the hottest shows in Southern California, who knew that one day he would be a part of that.
With hard work and sacrifice, he later added on-air jock duties while hosting weekends and Morning Show shifts. With an outgoing personality, comedic relief, and the ability to rock a crowd, there's no surprise and it shows!
Aside from deejaying, giving back to the community is a top priority for him. Every year Hospe and fellow jocks from the station hold toy-drives to help spread the holiday spirit for underprivileged children in town.
Hospe loves to "dig" for vintage vinyl records all around the country. Being an avid record collector, he wants to one day produce and write his own music. You can say he's a music connoisseur in that his collection ranges from Jay-Z to Yvonne Elliman.
Proving himself every day, whether it be on-air, at a club or with the community, Hospe has only given us a small taste of what he has to offer. The deejay with a love for music is truly living his dream everyday…
Catch me on twitter and facebook!
Justice League Trailer number 2 is out!  The trailer features Jason Momoa's Aquaman, Ben Affleck's Batman and Ezra Miller's The Flash for the much anticipated DC Comic's Justice League movie. https://i.ytimg.com/vi/prFiAYxLXiM/mqdefault.jpg JUSTICE LEAGUE | Unite The League