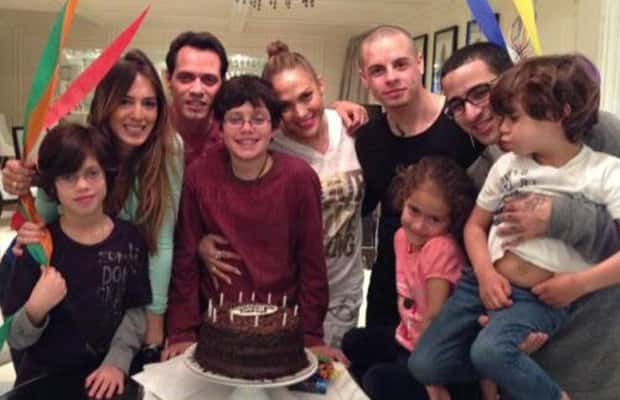 Casper, Marc, and Shannon (Twitter)There doesn't appear to be any bad blood in J.Lo's and Marc Anthony's blended family!
Jennifer Lopez reunited with ex-husband Marc Anthony Wednesday night to help celebrate his son (with ex-wife Dayanara Torres) Cristian's birthday, and Anthony even tweeted a pic to share the fun with the world. Joining the festivities were J.Lo's boyfriend Casper Smart and Anthony's possibly on-again girlfriend Shannon de Lima.
So, the big question here is – where was Torres – Cristian's mom – while the party was happening? (we're also curious who the guy is wearing glasses on the right!)
Jennifer Lopez also tweeted the same picture wishing Cristian a happy birthday.
Lopez, 43, said last month her "whole world fell apart" after splitting from Anthony in 2011 and it was Smart, 25, that helped her put back the pieces.
"My life is really good right now," the "Parker" actress said about her much younger beau. "I'm at a point where I'm able to make decisions based on what I really want to do. I'm making decisions based on what I feel, which is never wrong no matter what the outcome is."
Meanwhile, a rep for Anthony confirmed a few weeks ago that he had split from his girlfriend, Shannon de Lima.
"Marc is no longer dating model Shannon de Lima," his rep said in a statement. "The amicable breakup became official right in mid-January."
Things certainly appear to be amicable judging from this new photo.
It's nice to see that some exes are able to let bygones be bygones, and put their children first!