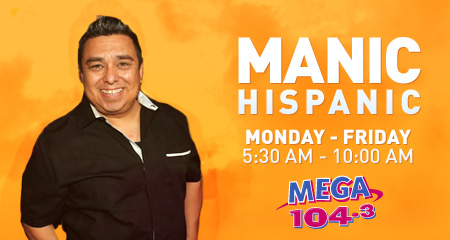 CRUISIN WITH THE MANIC HISPANIC SHOW
Weekdays (Monday- Friday) 5:30 am – 10:00 am
Sunday Afternoon from 3pm – 7pm
FEATURES: Cruzin' classics, Requests, Dedications, E-Mail of the Day, and The Cruisin' Roll Call
Born and raised in South Phoenix, Arizona to a big family. I guess you can call us the Mexican-American version of the brady bunch 3 BOYS AND 3 GIRLS. The only difference was that I had to share a bed with my brothers and it doesn't help when one of them thought he was Bruce Lee in his sleep . Fell in love with radio when I first heard Wolfman Jack in the movie American Graffiti.  That was my goal, to be just like him on radio, but my voice never got has deep has his. I am respectful and grateful to be able to do this after 23 years and never forget all the people who have helped me. Radio and music will always be in my life however the acting bug took a bite a while back and I did a bit of acting in some community theatre productions and wrote a play called:"MANIC HISPANIC :ON THE AIR". The Play had a 2 week run where we staged and performed at the Herberger Theatre for their lunch time theatre .
THE MANIC HISPANIC LIVE AT NIGHT AND CRUISING WITH THE MANIC HISPANIC…
I have always wanted to put on a show that the whole family can listen to together. Whether you are at the park or in the backyard while doing the bar-b-que, its a kick back type of fun. On the air Monday thru Friday 6pm to 10, and from 3pm to 7pm every Sunday right here on MEGA 104.3.
I always like to say "I'm just a homeboy from the barrio who has his own show now". And its all thanks to you for listening!!!
Click Here to check out my website
Click Here to Email me your requests and dedications
Manic Hispanic Blog