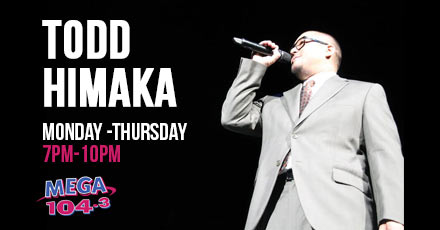 Name:
Todd Himaka… My friends call me Todd…I've been called The Toddler…  My mom calls me her"Handsome Little Man."  [It's all lies though…]
Hometown:
San Diego, CA
Currently Residing:
Phoenix, AZ baby!!!  [and LOVING IT!!!]
Sign:
Pisces… and my name is Todd… [Ohh yeahhh!]
Places I've worked:
XHRM MAGIC 92.5 [The Quiet Storm], Earthbound Radio [Common Ground], XHTZ Z90.3 [Between The Sheets], The Armory [Honolulu, HI.], Chuck E Cheese's [yeah…  I don't want to talk about it…]
School:
Thomas Jefferson School of Law, San Diego State University, Southwestern College
Favorite Old School Artist:
My hands down ALL time favorite?  Anita Baker…  'Rapture' was the FIRST cassette I ever bought.  I'm also a big fan of The Whispers, Enchantment, Al Green, Ralfi Pagan, Marvin, & The Isleys…  There's WAY too many for me to name.  LOL!
Favorite Concert:
I used to LOVE watching Grover Washington Jr., who would make annual trips to San Diego to perform.  I got to see him 3 months prior to his passing. He is STILL one of my favorites jazz artists… ['All My Tomorrows' is an AMAZING album…  I highly suggest you check it out…]
Favorite Old School TV Show:
Just FYI… I am the KING of 'Full House' and 'Saved by the Bell' [the Bayside Years] trivia.  [Don't judge me…] I also own the complete series of 'The Wonder Years' and 'Boy Meets World'.
Favorite Old Skool Movie:
A Christmas Story, Coming to America [Right now I'm washing lettuce… Next week I'll be on fries!], House Party, Three Amigos [it's a SWEATER!!!]
Favorite Part of Growing up:
Listening to the radio; I was obsessed! I remember my very first "boom box" that my parents bought me and I'd run home from school and immediately turn it on and imitate the Radio DJ's. I wish I had those old tapes still…  LOL!!!  OH BROTHER!!!
What I Do to Relax:
I watch a LOT of TV.  It's bad, I know…  I also listen to music and work on mixtapes too.  [download some of them NOW on www.Mixcrate.com/JABAone]  I also LOVE to cook and bake…  I get to zone out and focus in the kitchen.  [NOW REMEMEBER…  I said 'I LOVE to cook…' and LOVING what you do…  and BEING GOOD AT IT are 2 different things…  Just sayin…]  I also try to read a lot too…  it makes me feel smart.  =/
Click here to get in touch with Todd!