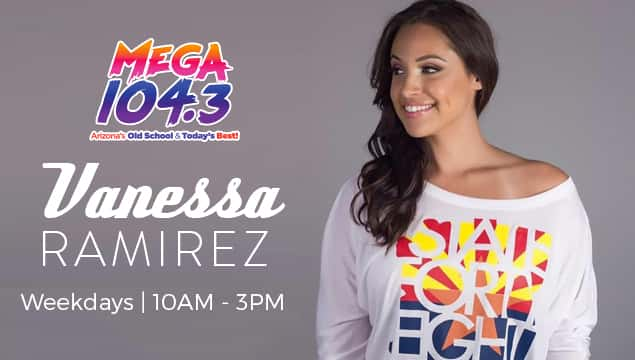 Vanessa Ramirez, a native Phoenician, grew up in the West Valley. She graduated from Grand Canyon University earning her BA degree in
Communications. She has worked in the television and radio business for over ten years and loves every moment of it!
Ms. Ramirez keeps busy with a handful of jobs; which include being the In-Game-Host for the Arizona Diamondbacks and Television Host for Cox 7's, Su Vida. Aside from her on-camera positions, you may also spot her featured in commercials and campaigns around the Valley. Now you can listen to Vanessa as the Mid-day radio personality for Mega 104.3 Monday through Friday.
Previously she was also a reporter for NBC affiliate KPNX Channel 12 News, where she frequently helped out with your morning traffic commute and highlighted "Things to Do" around the Valley for EVB Live.
Vanessa is the founder of The Frank Ramirez Breathe to Believe fundraising event that helps raise money towards lung cancer research. She started this after losing her father to non-smokers lung cancer 4 years ago.
She also enjoys helping out with other non-profits in the community, such as the March of Dimes and Latina Strong Foundation.
In her free time Vanessa enjoys spending time with family and friends, checking out the fun activities around town, especially food festival and working out.